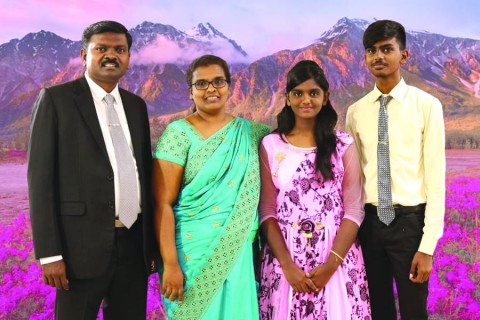 Pastor Jerry Daniel is the Senior Pastor of City Revival A.G. Church.
He was born in a Christian family. Pastor Jerry Daniel accepted the Lord as his personal Savior in the year 1990 when he was 16 years old. Later he obeyed the Lord in water baptism and God filled him with his Holy Spirit with the evidence of speaking in tongues. Ever since he accepted the Lord Jesus, he has a burden to reach the lost with the gospel. He has a passion for revival. God has endowed him with the gift of preaching and teaching.
He has been serving the Lord as Pastor in the Assemblies of God since 1999. He did his M.A. in English Literature at Bishop Heber College, Trichy. He also holds M.A. in Biblical Studies from SAIACS, Bangalore; M.Div. and M.Th. from ACTS Institute, Bangalore. He earned his Doctorate in Ministry (D.Min.) from SAIACS, Bangalore.
He is married to Helina Blessy and he is blessed with two children Jonathan Spurgeon and Janice Ekklesia.